SPRING, SUMMER, AUTUMN PROGRAMS
Nowadays, the region has more and more colourful and varied tourism programs outside the winter season. The area offers countless relaxing and sporting activities from early spring to late autumn.
Biking – Murau-Kreischberg
One of the most popular routes in the Alps is the Mura River Cycle Trail (MURRADWEG), which has a section that runs right next to the EdelMur Apartment House. According to experts, this cycling routes is amongst the nicest, going through the most diverse landscapes in the countryside, where Austrian wines and excellent local restaurants are not to be missed at the stop-points.
The cycle path starts from the Hohe Tauern National Park, and then crosses Graz along the Mura to the Austrian-Slovenian-Hungarian border. The first 14 km is recommended for mountain biking, as the difference in altitude on this short section is 400 meters. The rest of the road is gentle and can easily be wound up with children. The route is known as the Murradweg and has a total length of 462.8 km, with a 45 km (and also the most beautiful) section through the Murau region.
The 45 km section starts at Predlitz and runs through Stadl an der Muro to Murau. A wooden bridge (Mursteg), 20 meters from the EdelMur Apartment House, connects one shore of Mura with the other, which we must cross if we are to continue our journey.
Bike rental is available from several providers (Intersport, Sport Schule).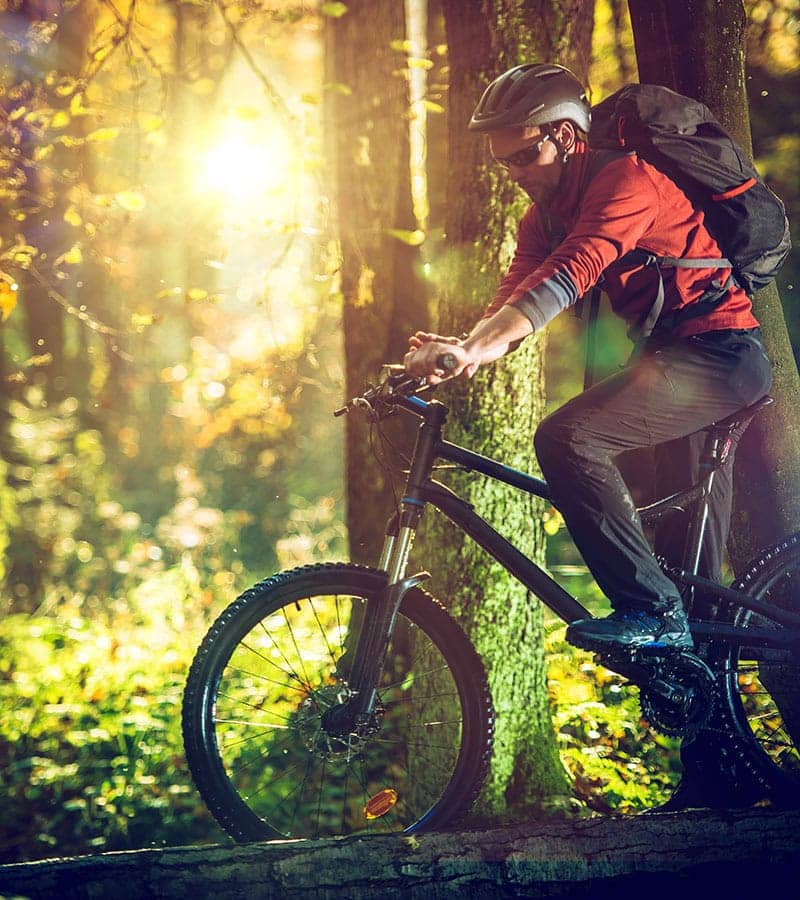 MOTORCYCLING
There is nothing more to symbolize the arrival of spring than the bikers appearing in the nice weather.
The armies of adrenaline and speed lovers can be found from spring to autumn on the roads of Austria, including Styria. You will not be disappointed in the area around Stadl an der Mur for motorcycling, whether you prefer individual or group tours.
www.outdooractive.com/en/motor-sports-activities/predlitz-turrach
RAFTING
Nowadays, rafting as a sport and recreational activities are becoming increasingly popular and popular with young people. As the Mura from the Province of Salzburg crosses Styria, there are great opportunities for beginners and advanced rafters around Stadl an der Mur. What's more, Mura runs beside the apartment house's garden, so you don't have to go far to look at this beautiful natural formation and try it out for rafting.
HIKING
The fresh mountain air, the gentle breezes of the streams and the beautiful scenery attract lots of travelers to the Murau-Kreischberg region. Hikers can choose between different difficulty levels (blue-easy; red-medium; black-difficult). By climbing peaks, you can obtain seals, which can be collected by tourists to earn a tour award.
The Gold Hiking Shoe Award can be obtained after climbing 7 peaks (Kreischberg, Kirbisch, Rosenkranzhöhe, Prankerhöhe, Ackerlhöhe, Schwarmbrunnhöhe, Frauenalpe).
The silver hiking shoe award requires the conquest of "only" 4 mountains (Gstoder, Kreischberg, Frauenalpe, Stolzalpe).
Before leaving the tourist office, do not forget to get the "Hiking Shoes" brochure, where you can collect the seals (you can also take your tour award here after conquering 7 or 4 peaks).
For hikers with children, the Detective Study Trail, which guides the whole family through the village of St. Georgen in an exciting investigation, is a must-see. During the trip, they can collect stamps (letters) in a brochure that can be obtained from the local tourism office for their children. As a result of successful work, they will receive a word, for which, of course they get the well-earned reward (also in the office mentioned above).
ADDITIONAL PROGRAM OPTIONS
Summer bobbing
Don't miss out on the summer bobbing experience that you can try at Turracher Hohen or Grebenzen. You will be guaranteed a lifetime experience.
www.turracherhoehe.at/en/summer/nockyflitzer
Golf
A 18-hole golf course awaits the sport-lovers between Kreischberg and Murau.
www.golf-murau-kreischberg.com
Narrow-gauge railway
The small train between Unzmarkt and Tamsweg runs across 65 km of stunning landscapes and locations, which is a fantastic experience not only for children.
www.steiermarkbahn.at/reisen-freizeit/murtalbahn-dampfzug
Fun- and adventureworld Turracher Höhen
Along the Nocky's Almzeit Boulevard, Nocky Bunny awaits children and their parents at several exciting playgrounds, including a water playground, sandpit, speedometer and music.
www.turracherhoehe.at/en/nockys-almzeit
Stroll at Murau
Muraut is also called the city of wood and beer, so it's worth a day to visit the museum. At the Museum of Beer, adults will experience an interactive guided tour during the visit to the museum, accompanied by a beer tasting. The brewery has a history of more than 500 years, and it is here that Murauer, the typical and popular beer of the region, is made.
In the Wood Museum (Holzmuseum)  you can get to know everything about wood and everything about its processing. The museum is also a great experience for children, especially for the outdoor wooden and water playground.
Bathing
The leisure center of Stadl an der Mur is the perfect place to relax and a great place for families. There is a playground, a skateboard track, a soccer field, a beach volleyball court and even an artificial pond suitable for bathing.
www.steiermark.com/de/steiermark/ausflugsziele/stadler-badesee
St Lorenzen's outdoor swimming pool features a heated pool, a children's pool and a children's playground.
www.murau-murtal.com/Tourismusregion-Murau/de/urlaub/sommer/schwimmen/Freibad-St.Lorenzen
And in Murau, a rainy day can be spent dabbling at the indoor swimming pool.
Fairy tale park in St. Georgen ob Judenburg
For toddlers the fairytale park (Märchenwald Steiermark) is a must-see, where on a forest path approximately 130 figures enliven the classic fairy-tale world, where you can, among other things, slide, donut or climb a castle.
Castle Mauterndorf
Mauterndorf Castle (German: Burg Mauterndorf) is a castle in the municipality of Mauterndorf, in the Austrian state of Salzburg. It is situated at an altitude of 1,138 metres (3,734 ft)
www.salzburg-burgen.at/en/mauterndorf-castle
Mineral museum Turracher Höhen
Last but not least we would like to highlight the mineral museum inspiring the name of our Apartment House's rooms, the Mythos Edelstein Kranzelbinder, where you can not only admire the magnificent collection of minerals or buy beautiful stones and jewels, but in the summer children can also dig and wash stones.